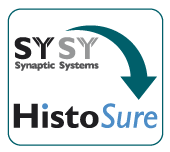 This rabbit anti-CD11c antibody is not longer available under cat. no. 375 003.
It has become exclusive part of our HistoSure product-line and carries the cat. no.
HS-375 003 (CD11c)
. It is still the same antibody as before but in some cases the formulation has been changed from a µg to a µl format to achieve more end-user friendly dilution ranges.
By clicking
HS-375 003 (CD11c)
you will be directly transferred to the corresponding fact sheet on our HistoSure web site.
On this web site we offer antibodies with excellent performance in formalin-fixed paraffin-embedded (FFPE) tissue samples for use in histopathology.