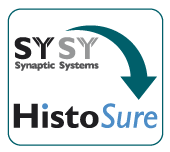 Dear customer,
this antibody is part of the Synaptic Systems HistoSure product-line.
By clicking
HS-234 004 (IBA1)
you will be directly transferred to the corresponding fact sheet on our HistoSure web site.
On this web site we offer antibodies with excellent performance in formalin-fixed paraffin-embedded (FFPE) tissue samples for use in histopathology.